Scope: Print & Illustration
The Canadian Centre for Diversity and Inclusion (CCDI) is a social organization that helps those we work with be inclusive, free of prejudice and discrimination – and to generate the awareness, dialogue and action for people to recognize diversity as an asset and not an obstacle. Understanding the importance of diversity and inclusion in society can help us come together and solve bigger issues. There are numerous dimensions to diversity that goes beyond just race and gender, such as physical appearance, religious beliefs, age, sexual orientation, culture, political beliefs and profession. In a country like Canada, it is very common to interact with people outside our native groups, which is why embracing this phenomenon that is diversity is essential to evolving as a society.
The project aims to educate Canadians on the many unique ethnic groups from around the world. Although Canada is one of the most multi-cultural countries in the world, many are unaware of the different types of ethnic identities and their histories. We must make more effort to recognize and embrace each other's backgrounds in order to break down the barriers set by cultural differences. 
This campaign will be executed as a collection of 7 educational cards each focusing on a different ethnic group. The front of the cards consist of illustrative drawings of people with dresses, jewelry and grooming styles that speak to their particular culture. The backside will give information about their ethnic background, history and characteristics. This collection is a fun and artistic approach towards educating Canadians on the diversity of ethnicities. 
The card collection would be promoted through

CCDI

on their social media channels as well as in schools across Canada. This will be an ongoing campaign that will release a new collection of cards every month. The proceeds from the card collections will be donated directly to 

CCDI

 and 

ENSEMBLE for the respect of diversity

 which is a charity that works and interacts with young people to promote respect for differences, and build an environment free of discrimination and bullying.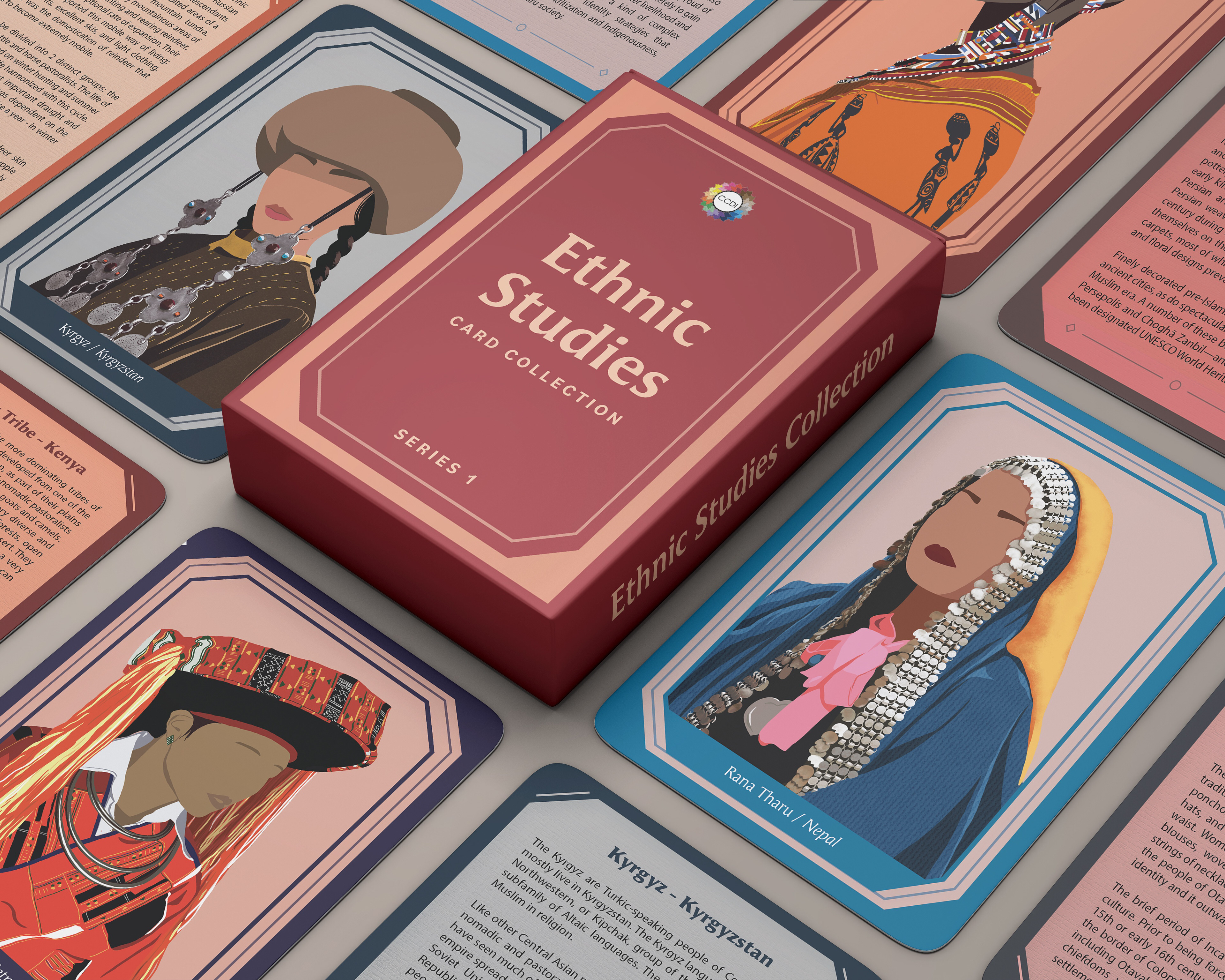 https://www.boredpanda.com/indigenous-people-siberia-alexander-khimushin/utm_source=google&utm_medium=organic&utm_campaign=organic
https://www.buzzfeednews.com/article/javiermoreno/this-photographer-traveled-the-world-to-show-that-female-bea#.ql91o41mlo
https://digitalcommons.macalester.edu/cgi/viewcontent.cgi?article=1720&context=himalaya
https://www.everyculture.com/wc/Japan-to-Mali/Kyrgyz.html#ixzz6o5dji5E1
https://www.beontheroad.com/2012/09/understanding-samburu-tribe-of-north.html
https://latintrails.com/theuniqueotavalenaculture#:~:text=Origin,of%20Inca%20and%20Spanish%20invasions.
https://www.vietnamroyaltourism.com/Pa-Then-People-in-Vietnam.html
https://www.eki.ee/books/redbook/evenks.shtml